This article was written by Colleen Connolly on September 24, 2023 and, published by The 74.
ST. PAUL, Minn. — In the early days of the pandemic, Kentarios Franklin, now 24, who goes by KD, spent his days looking for jobs and new places to stay. He walked into restaurants and stores, asking if he could help stock shelves or do other odd tasks, and bounced around among friends' homes, sometimes staying for as little as a week or two.
He continued like this for about three years until one day, a friend gave him a camera. That's when his life began to change, Franklin says. About six months ago, through a local youth organization that teaches video production, he met former professional soccer player turned philanthropist Tony Sanneh. Sanneh offered him a job as a photographer and videographer for the Sanneh Foundation, which runs free sports camps and other out-of-school opportunities for diverse, low-income, urban and immigrant youth.
Sanneh Foundation founder Tony Sanneh, left, and youth worker KD Franklin pose for a photo at the foundation's St. Paul office.
For the first time since the pandemic began, Franklin has a stable job — and stable housing — where he feels like he can grow. He's one of 14 Sanneh Foundation youth workers currently living in subsidized housing provided by the foundation specifically to support workers like him.
"Stability is everything," Franklin said. "Ever since I picked up a camera, my life has changed in ways I couldn't have imagined. I'm already in cahoots with videographers outside of the Sanneh Foundation, and being in this environment is helping me to develop not only as a professional, but as a man as well."
Low pay and the lack of benefits as well as career development are common among frontline staff in the youth work industry — broadly defined as jobs that serve kids outside of school, from afterschool and tutoring programs to sports to summer camps. Funding sources can often be ad hoc and industry staffing standards are not highly regulated, which opens the door to much-needed workers without formal degrees but can also prevent career advancement.
"Workers in these spaces are undervalued," said Dale Blyth, professor emeritus at the University of Minnesota's College of Education and Human Development. Blyth is also part of a group conducting a comprehensive survey of youth workers called the Power of Us.
"They've been thought of as 'nice things for kids,' but not necessary for learning and development. But what we're increasingly learning is that these opportunities for young people after school, during the summer, on weekends, are actually critical learning and development opportunities. They are often where young people have a chance to explore their interests and take their learning further than they might be able to in a classroom."
Research shows that out-of-school programs can have a profound impact on kids, including forming positive relationships with adults, learning social skills, and improving reading and math achievement. But workers in the field don't see a big financial payoff. More than three quarters earn $10-$20 an hour, with 9% earning less than $10 an hour, according to a nationally representative 2022 EdWeek Research Center survey. According to a spring Afterschool Alliance survey, only 21% of workers receive full or partial benefits and paid leave.
Funding for out-of-school programs operated by school districts often comes from state education agencies and federal funding sources. But many programs are operated by nonprofits, faith-based groups and volunteer-based groups that rely on philanthropy and whose leaders say they aren't able to simply pay workers more due to grantmakers' restrictions on how funding can be used. Some youth programs like the Sanneh Foundation, however, are finding more creative ways to support workers.
About six years ago, the Sanneh Foundation surveyed its staff members at the time about their work, lives and well-being. The survey found that five of the organization's 50 employees didn't have permanent places to live.
"We found a lot of young people who wanted to serve their communities and help other youth, but it was just a struggle. It's a low-pay and low-opportunity field," Sanneh said. "So we asked ourselves, 'how can we invest in them while keeping the foundation sustainable?'"
With housing insecurity topping the list of staff concerns, the foundation began offering employees housing vouchers, paying security deposits and co-signing leases when necessary.
Fourteen Sanneh Foundation youth workers live in subsidized housing provided by the foundation including this shared home.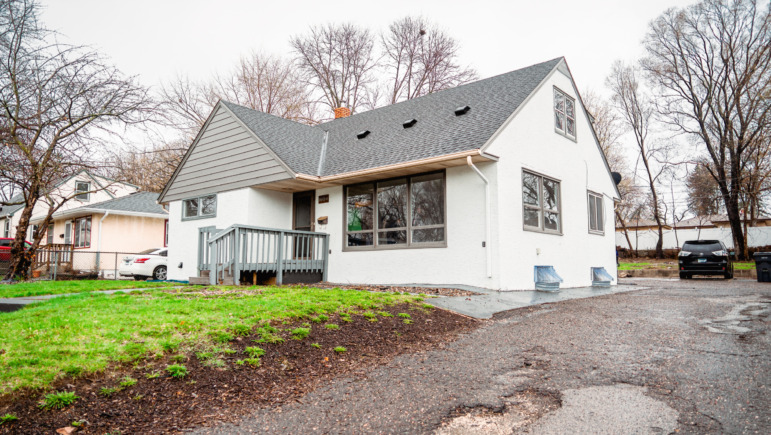 Fourteen Sanneh Foundation youth workers live in subsidized housing provided by the foundation including this shared home.
(Courtesy of KD Franklin)
A few years later, the foundation started purchasing houses to rent to workers. Most workers pay $500 per month for a room plus $100 in utilities, compared to an average of nearly $1,200 in rent for a one-bedroom in the city, and also receive a box of food every week as well as supportive services for mental health and other issues.
Many of the foundation's workers who don't work directly with youth are hired through the AmeriCorps VISTA program and receive salaries between $20,000 and $25,000 a year, with additional stipends of up to $14,400 a year. Staff over 18 who work directly with kids are paid about $16-$20 an hour.
Other organizations are also working to support youth workers outside of raising salaries. Starting in January, the Indiana Youth Worker Well-Being Project will provide thousands of youth workers across the state — including out-of-school workers, child welfare professionals, shelter staff and mental health counselors — with access to telehealth services, mental health counseling and peer learning groups. They also plan to launch a professional development program for emerging leaders of color.
The project will be operated by the Indiana Youth Institute, a nonprofit focused on training professionals in youth work, and be funded by a $20 million Lilly Endowment Inc. grant. The project grew out of a 2022 survey of the state's youth workers, said Cassie Wade, vice president of youth worker well-being at the institute.
"Youth workers talked about high levels of vicarious trauma they experienced working in the field," Wade said. "They talked about high workload, inadequate or lack of access to benefits, lack of clear career advancement — and all while being a youth worker during a global pandemic."
California offers a cautionary model for non-school-based youth programs looking to support their workers. Before the pandemic, the state put nearly $800 million toward expanding before- and after-school and summer programs and later expanded the programs with the help of the federal American Rescue Plan Act dollars. Today, $4 billion a year goes toward out-of-school programs, with the number expected to reach $5 billion by 2025.
A report by the Partnership for Children and Youth found that the expansion allowed more kids to be served, for more hours in the day, and with a greater diversity of learning experiences. But even as the funding increased, Tiffany Gipson, the program director for equity and quality initiatives at the California AfterSchool Network, said some programs are still on the verge of going out of business and struggling to pay their workers minimum wage.
"It's not just the transactional piece of 'oh, give us more money so that we can pay staff more and make staff do more,'" she said. "For me it's more, how do we help the systems understand the value of this work and that it's been undervalued?"
In light of the lack of consistent and reliable funding to increase salaries, Sanneh wants to invest in his workers' career development and help them find more stable, better-paying careers rather than stay at his foundation, unless they want to. For some, that means helping them become teachers or social workers.
For Franklin, that means helping him network with other video and photography professionals and make a financial plan to achieve his goal of owning his own video production business, ideally making documentaries that shine a light on issues like youth homelessness.
"I didn't have a choice to go to college," Franklin said. "That was out the window in the first place. But the fact that I didn't go and am still here, it's like seeing a light at the end of the tunnel. I never would have thought I'd be working at this level."