This article is written by Beth Feritg and published by The 74 on August 23, 2023.  
This article has been produced in partnership between The 74 and the XQ Institute.
Lydia Nichols recalls being "incredibly shy" when she started taking classes at Iowa BIG during her junior year in the fall of 2021. The Cedar Rapids program takes students from different regional high schools and requires them to develop community-based projects for credit. By working in small teams and learning how to research topics at Iowa BIG, Nichols said her confidence grew.
"They showed me that I did know what I was doing, and that my anxieties were just that: anxieties and that I needed to overcome them," she said.
Lots of students struggle with shyness, anxiety and more. Even before COVID, most high school students were feeling bored and stressed, according to researchers at Yale University. During the pandemic, more than 40% of students in a CDC analysis reported feeling sad or hopeless.
But there's a bright spot. The CDC analysis also found youth who felt connected to adults and peers at school — like Nichols — were significantly less likely to report persistent feelings of sadness or hopelessness than those who felt less connected. These kinships are also key ingredients in great high schools, like Iowa BIG, that put a premium on caring, trusting relationships and meaningful, engaged learning (two of XQ's research-backed design principles for high school transformation).
Nichols is a member of XQ's Student Advisory Council, which provides a space for students to work alongside XQ and other students to help improve the high school experience. With a new school year on the horizon, I spoke with Nichols and two other SAC members. Each of the three attends or recently graduated from XQ schools that also emphasize project-based learning. Below are excerpts from my conversations with Ella Correia, Purdue Polytechnic High School class of 2024 in South Bend, Indiana; Najid Smith, Latitude High School class of 2025 in Oakland, California; and Nichols, Iowa BIG class of 2023. Here are their six tips for how educators can improve relationships and learning.
1. Try Bonding Games
At the start of the 2022-23 school year, Smith said Latitude High's educators divided the sophomores into two groups of more than 20 students each. The teens went on overnight camping trips to a Bay Area beach with a few of their teachers, where they hiked and made tie-dye shirts. More bonding exercises continued a day later when they played games and interviewed each other at the school. Students then made custom greeting cards for their peers, to thank them for the opportunity to get to know each other, Smith said.
Educators have written about social and emotional benefits to game-playing in an academic environment. At Iowa BIG, Nichols said teachers build in time for bonding activities with games like Jenga.
"They know our mental health is very important to us," she said. "And it's very important for our projects that our mental health is good and we are able to work as a team, and we like our team members and we know the strengths and the weaknesses of our team members."
At Purdue Polytechnic High School, which also emphasizes projects, Correia said bonding activities take place during advisory classes by students and teachers. Every Wednesday, students would play a game — like Uno — and recount a positive or negative about their day, she recalled. While some students were initially reluctant, Correia said everyone got to know each other better.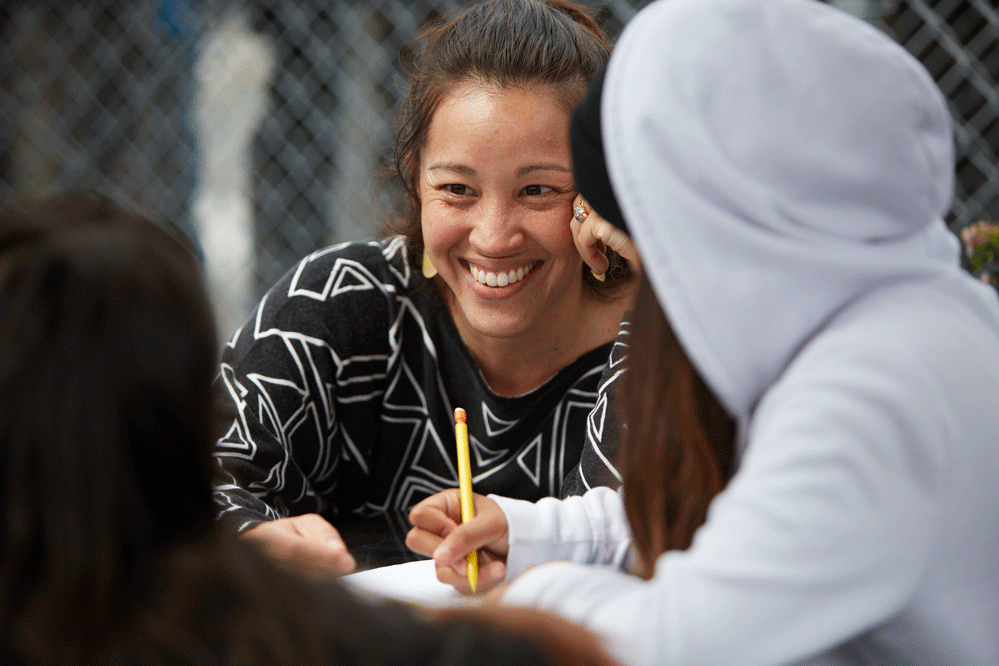 2. Show Your Students You Enjoy Helping Them
"As students, we feel what our teachers are feeling," Nichols said. "We see when they're having fun, we see when they're enjoying themselves. And if we see that they're disappointed in us, if we see that they're not having fun, then it really does ruin the whole atmosphere."
Nichols recalled feeling anxious about a fundraising project during her junior year because the marketing campaign needed a lot of work. But one teacher made time to help her overcome those anxieties by breaking down tasks and asking her simply to name three things she wanted to complete that week.
"They really helped me understand that I can do more than I think I can," she said.
Correia described herself as initially "hesitant" about asking questions in her high school classes because it's easy to get discouraged when a question isn't answered. But that changed after forging a connection with one teacher who made her feel like questions are welcome.
"She tells me all the time she's always asking questions in [school] meetings," Correia explained. "She wants clarification, and I think just her relating to me made me feel that it was OK — that if I am confused, I can ask questions and there are people out there who understand … and they're willing to answer my questions and get me to where I need to be academically."
Smith said teachers at Latitude schedule office hours each week to provide extra help for students, allowing them to meet one-on-one without asking.
3. Create Educational Opportunities Outside of School
At PPHS, students work for eight weeks at a time on in-depth projects incorporating state standards for academic subjects such as history or science. Correia said this learning style "sticks more" because "we're applying that knowledge into something fun that we're physically doing." She's worked on projects involving the vertical farm Metropolis Greens, the Potawatomi Zoo and a children's museum, all in South Bend, Indiana, where they meet professionals working in the industry who talk about what they do. These experiences, she said, gave her ideas about future careers and areas of study for college.
Nichols said working on community projects at Iowa BIG taught her that she enjoyed project management, which she plans to study at the University of Iowa this coming school year.
---
For more ideas on rethinking the high school experience, read The XQ Xtra — a newsletter for educators that comes out twice a month. Sign up here
---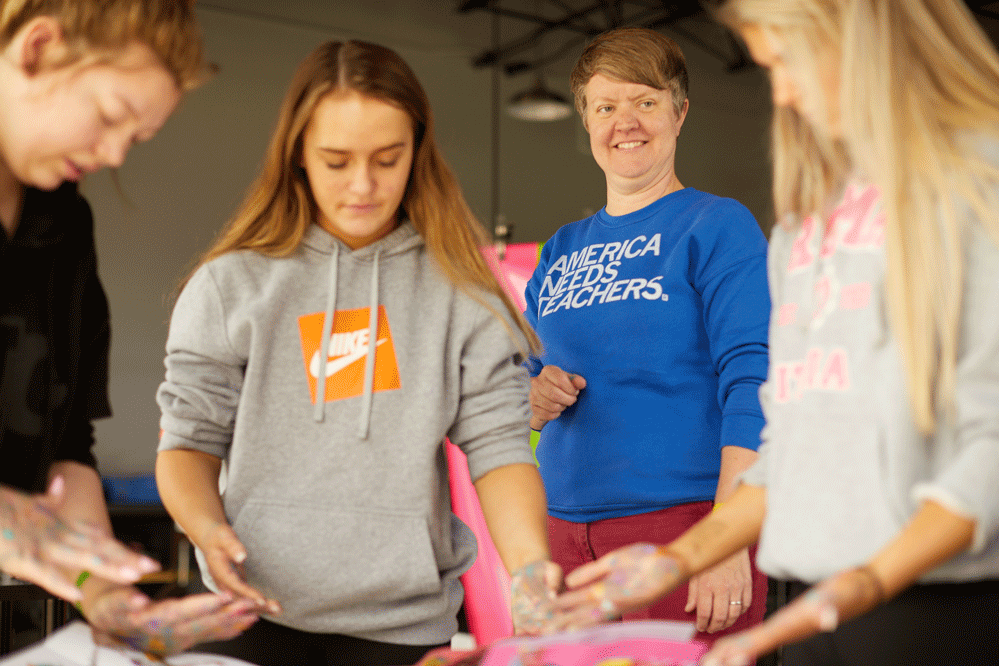 4. Make Learning Feel Meaningful
At Latitude, students often learn about their community during required subjects. For his humanities classes, Smith studied homelessness in Oakland by researching the cost of living, making podcasts and constructing a tiny house for homeless youth. He said many students goof around when they first start high school, but he's seen their attitudes change through these experiences. "I think it's because it's not just learning something on paper, but you're actually learning about it and deepening your knowledge," he said.
Nichols especially enjoyed an Iowa BIG project that involved making a docuseries about Native American mascots in local schools. She and her classmates visited schools, interviewed state senators, superintendents and students and researched what it would take to replace the mascots in gyms, signs, uniforms and more. "We just dove headfirst into this," she said. "We thought it might be a cool topic, and then we just met so many people and it was incredible to learn how to research." Nichols got English credit for the class because it required writing, researching and presenting. But it left a bigger impression.
"In a traditional classroom, you're just sitting there with a paper and you're filling out the same paper as everybody else," she explained. "You realize you're just doing busy work. The teacher is going to throw this paper away as soon as you get done grading this year; your work is not going to matter in one year. But my projects within Iowa BIG [like the docuseries] matter. We brought up topics where people are going to think about this for a long time."
5. Teach Students to Network through Internships
Latitude High gives students multiple opportunities for internships, gradually adding more as they move into the upper grades. Smith, who's interested in coding, interned at Hidden Genius Project, an Oakland nonprofit that mentors Black males in entrepreneurship and technology. He said he learned about AI and practiced coding at different tech companies. "A lot of people say, you know, coding is just sitting at a computer 24/7," he said. But his experiences showed him there's teamwork involved, and "it's a lot more fun than people really think it is."
He said teachers play a big role in making these connections. "Every person at the school knows somebody in some field that they can get in touch with and be able to do an internship with," he explained. "And I think that's important because everyone has different interests."
Correia had a biomedical engineering internship this summer that she learned about through her school's relationship with Purdue University. She agreed it's important for schools to pass on these opportunities to students. "A lot of students have a hard time finding opportunities that match their niche, as they haven't yet had the experiences that the adults in their life have," she explained. If administrators or teachers know what students are interested in, she said, they can help make connections and give students a taste of potential careers.
6. Create Opportunities for Student Voice and Collaboration
All three SAC members said they enjoyed how their schools give them choices and opportunities for collaboration. Correia said that's important for any career. "You're going to come in contact with people, and you're always going to need to know how to collaborate with people," she said. "It's important to get feedback and different perspectives on your work."
At Latitude, Smith said his subject teachers create groups of three or four students working together on assignments or projects. Students also take on different roles, such as leaders or facilitators, as they learn to cooperate. "We can disagree with somebody, but it's more like we would prefer thinking you build on someone's idea," he explained.
Making room for different perspectives is something the SAC members encourage teachers to do as much as they can. For example, because students have different styles of showing what they've learned, teachers should allow more options like presentations, written reports or podcasts. That's important to remember not just at the start of a new school year, but daily.
"Each kid is drastically different," Nichols said. "You can't have the same program for everybody. It's just not fair to the students to have something that's built for one type of student."
Want more ideas for making your high school more student-centered? The XQ Xtra is a newsletter for educators that comes out twice a month. Sign up here. Disclosure: The XQ Institute is a financial supporter of The 74.